Restaurant & Café
Local cuisine
Here fresh, regional (Saxon/Ore Mountain) dishes are cooked and interpreted in a contemporary style. In unseremour restaurant and on our two terraces we truly spoil you, from our delicious breakfast buffet, to coffee and cake, to the evening menu. Whether as a couple, dining by candlelight, or celebrating as a group with friends and family, you're in for a surprise.
The Story
"Barbarins" à la carte restaurant
The story behind Barbarins revolves around Barbara Uthmann – daughter of the co-founder of the town of Annaberg. The only girl to do so; she learned arithmetic from Adam Riese, and upon the death of her husband in a mining accident, she became a business woman in the 16th century! She was the first woman to successfully sell Annaberg bobbin lace at the Leipzig trade Fair, in 1561.
Small artworks made of wire, can be seen alongside rare, modern bobbin lacework, and characterise the décor of the "Barbarins" à la carte restaurant. Here fresh, regional (German/Saxon/Ore Mountain) dishes are cooked and interpreted in a contemporary style. Let yourself be surprised – history and the avant-garde are woven together here, producing the most wonderful result.
Iris Gläser wishes you an enjoyable and beautiful time.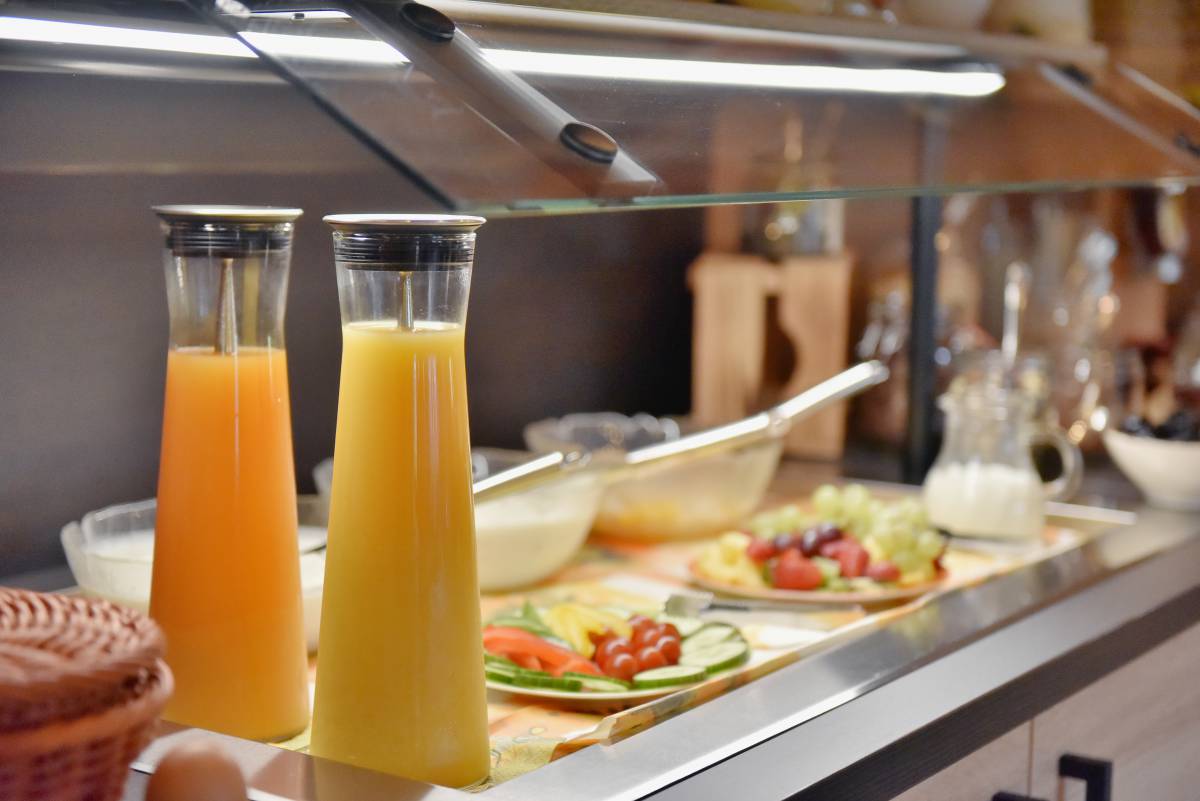 Daily from 8:00 - 11:00 a.m.
Breakfast
Our late breakfast buffet is served daily from 8:00 - 11:00 a.m. (or earlier for business guests & Stoneman Road riders). If you wish, during the coronavirus pandemic, you can of course also have our fresh, regional produce served to you at your table.
Ranging from various bread varieties, or yoghurt with cereals, psyllium seed, linseed oil or nuts, to scrambled egg, fresh seasonal sliced fruit, and speciality sausages, cheeses, and hams: this is how to make a healthy and invigorating start to your day of adventure!
You can also feel free to enjoy breakfast on the Barbarins terrace, complete with fresh air and a view of the mountains!
On sunny days: from 2:30 p.m.
Our terraces
Take a seat on our terraces during the warmer season. We would be delighted to welcome you to the Barbarins terrace in front of the hotel, where it is pleasantly shady on hot days. Or on our Talblick (valley view) terrace, alongside the herb garden. Here we welcome you to enjoy the ample fresh mountain air, some rest and relaxation, and a sweeping view.
In the afternoon, enjoy coffee, cake, or a tempting MÖVENPICK ice cream creation. In the evenings we will be delighted to serve you a meal with a cold Rechenberger beer, or a fine wine. Relax and while away the day in the warm outdoors. This is what holidays are about!