Your 4-star active hotel in Holzhau, in the Ore Mountains
Berghotel Talblick
In the Berghotel Talblick in Holzhau, you can look forward to green forests, cool valleys, steep ascents, and gentle mountain slops, sweeping views, winding paths, and fantastic developed trails. Active holidaymakers appreciate our extensive range of equipment and our top-class service. For we know what sporty holidaymakers are looking for.
Feel at home, in the nature hotel in the Ore Mountains
Immersed in nature
Our "Talblick" is a home to all those who love the Ore Mountains and value a natural style. Close to the mountains, close to nature. For us, origins and originality go hand in hand. We make sure that our environment gives to us, and that we, in turn, give something back.
We manage our hotel in Holzhau with a genuine spirit and an openness to that which is really important: respect for everything that comes from the heart. An appreciation for the good things in life, grown of tradition, and open to the future.
And a mindful togetherness, that allows us all to enjoy each day to the full. Here with us, in the Ore Mountains. Discover the modern and sporty State of Saxony surrounding our hotel in Holzhau! We are the go-to hotel in the Ore Mountains for sporty holidaymakers and active families, and are located right on the BLOCKLINE - a highlight for mountain bikers.
Just switch off

Close your eyes and dream yourself into the day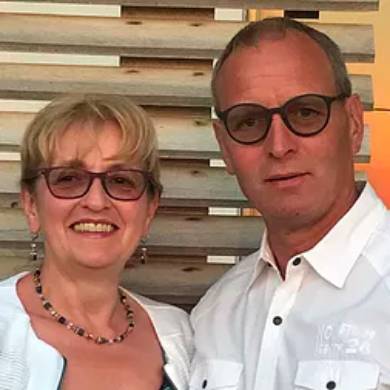 There for you on a daily basis
Your hosts
It is during these unprecedented times, in particular, that we are longing for those wonderful things that bring us joy and strength: friends, family, and untouched nature. Your hosts, Iris Gläser and Karsten Göhler, together with the entire team, wish you a pleasant stay in the Berghotel Talblick in Holzhau.